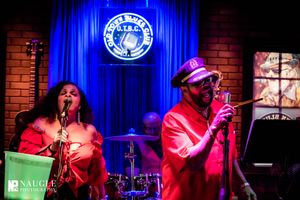 Henry Wallace, aka "Captain Morgan Lee",  created his alter ego to bring Soul, R&B, and Funk back to San Diego, CA, a city starved for this kind of music.  
In 1966 Captain Morgan Lee became a band leader, creating original music and his "image" in Northern California. He had great success during his teenage years. But the Civil Rights turmoil in the 1960's derailed his music career for many years, and only performed occasionally until 2007.
In 2007 Lee would do solo performances at various charitable events. In 2013, while he was performing for the Red Cross Relay For Life, he was approached by a couple of gospel musicians to put together a band. His first paid big live performance was at the Cooper Family Juneteeth Festival. Since then he's performed in Palm Springs, at the Los Angeles convention center, Diamond Street Festivals, Ensenada Mexico. Playa Mexico, Rosarito Mexico, Tijuana Mexico, Las Vegas, and many of the premiere clubs and venues in San Diego, CA.
Life has been good for Captain Morgan Lee and The Village of K.O.R.E. Band. He is now developing tribute show acts, including vocalist extraordinaire Tamara Sheila who can be seen performing regularly with the band.
"A blast to the past back to the days Motown and beyond!  The Village of K.O.R.E. helps Captain Morgan Lee vanguard a musical representation of all your favorite songs from that golden era.  The vibe will keep your audience wanting and coming back for more."
-The Landing Night Club, El Cajon, CA
"Priceless!"

"You guys were all amazing!!! I enjoyed every last minute of it!!!

"Sang it like you meant it!"
-Fan Quotes